Convention Details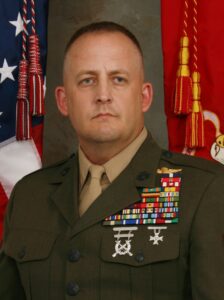 Companions and Friends of the Legion of Valor,
It is my distinct honor and professional privilege to be hosting the 131st Annual Legion of Valor National Convention! Cynthia and I greatly look forward to everyone descending on Arlington VA, the gateway to Washington DC, between 2-6 August of 2023 for a convention filled with camaraderie and joyous times in celebration of our storied organization!
The timeline of the Convention has been planned to provide maximum free time for everyone attending in our nation's capital, coupled with the traditional business obligations of the Legion, and capstoned by spectacular evening events on both Friday and Saturday.
Many of you have been to our nation's capital over the years, but some have not been back since before the pandemic, and still, some will be visiting for the very first time along with family. A lot has changed around the city, and I invite everyone to take it all in, provided as well with the ample time to do so.
The lodging venue at the Crystal Gateway Marriott was selected for a lot of reasons. It is a spectacular, world class venue within distance of everything. Fort Myer, Washington Naval Yard, Arlington National Cemetery, the Pentagon and the Air Force and Marine Memorials are within a mile of the hotel. Washington Reagan International Airport is right down the street with transportation to the hotel's front door. In the basement of the hotel is the metro and a shopping plaza…you don't even have to leave the hotel to board the subway to connect to anywhere in the city and for those who would rather fly into Washington Dulles, there is even the Silver Line that brings you right into town and to the hotel as well. In a lot of ways, you don't have to bring or rent a vehicle to get around during the convention and see everything you want to see…the Vietnam wall…the WW2 and Korea Memorials, the Capitol, White House, State Department, US Treasury, Holocaust Museum, Washington Monument, Jefferson and Lincoln Memorials…Ford's Theater…you name it…all accessible and a short distance from the hotel. Should you choose to bring a car however, a discounted parking rate of $20.00 per night makes it very economical for you to do so. The venue also has breakfast and other numerous dining options to meet all hours of the day, spa services, a club and numerous bar areas. The surrounding area has plenty of dining, shopping and entertainment options as well.
Thursday is a complete free day to socialize with friends of the Legion, visit other friends you may have in the area from times gone by, visit your Congressional Representative or Senator or just do whatever your heart desires, at your own pace, on your own time. The National Museums of the US Navy, US Army and the US Marine Corps are all within driving distance of Arlington, as is Andrews Air Force Base, Fort Belvoir and the US Naval Academy and beautiful town of Annapolis. A lot of the Smithsonian museums have been revamped along the Washington Mall as well, one of the pinnacles being the National Air and Space Museum. The hospitality suite will be open all day and into the night for a place to meet and converse, as well as swing by to stay hydrated and enjoy some good company and discussion.
Friday evening has been planned for a visit to Marine Barracks Washington, to be hosted by the Commandant of the Marine Corps and enjoy the Commandant's own Drum and Bugle Corps as well as the Marine Corps' world class silent drill platoon and marching cadre.
No day is an early day unless you want to make it one. Saturday morning meetings of the Legion and the Women of the Legion will kick off at 9am, followed by free time again in the afternoon and preparation for the Convention Gala that evening where the Legion will celebrate its storied existence since 1890.
I am as excited about hosting all of you as I hope you are excited to come and enjoy the 131st gathering of America's Fighting Hall of Fame. Good times with good friends is always time well spent in my book, and I look forward to seeing you all there.
Justin D Lehew NC
National Commander
Planned Schedule
Wednesday 2 August
Crystal Gateway Marriott
1800-2200 – Welcome aboard to members – Hospitality room open
Thursday 3 August
City wide touring on your own/attendee free day
Hospitality room open all day
Friday 4 August
0800 – Pickup at Marriott for transport to National Museum of the Marine Corps
0800 – 0845 – Transportation to National Museum
0845 – 0900 – Movement to Chapel at NMMC for LOV Memorial Service
0900 – 0930 – LOV Memorial Service
0930 – 1230 – National Museum of the Marine Corps tours (Lunch on own on site)
1230 – Pickup at NMMC for transport back to Marriott
1245 – 1330 – Transport to Marriott
1330 – 1800 – Free time
1800 – 1815 – Load buses for transportation to Marine Barracks Washington
1815 – 1845 – Transport to MBW
1845 – 1900 – Offload buses at MBW
1900 – 2030 – CMC hosted visit
2030 – 2045 – Movement to seating area
2045 – 2200 – Evening Parade
2200 – 2230 – Load buses for transport to Marriott
2230 – 2300 – Transport to Marriott
Hospitality room open
**Dress for day to National Museum – Casual
**Dress for Evening Parade at Marine Barracks – Business
Saturday 5 August
0900-1030 – LOV and WLOV Board Meetings
1030-1130 – General Membership Meeting
1130-1200 – Report of WLOV
1200-1800 – Free Time
1800-1845 – Cocktail Hour
1845-1855 – Movement to Ballroom
1900-2200 – 131nd National Convention Gala
2200-???? – Hospitality Room Open
** Dress for National Convention Gala – Black Tie/Suit/Formal attire
Sunday 6 August
Checkout/cleanup and departure
Hotel Reservations
Crystal Gateway Marriott
1700 Richmond Highway
Arlington, VA 22202
Book your group rate for 131st Legion of Valor National Convention 
Do not make reservations at Reservations.com or other third-party sites. Special rates apply 2-6 August. RESERVATIONS MUST BE MADE ON OR BEFORE 14 July 2023 to receive special rates.
Room rates are $149 plus tax (king or two double beds)
Check in: 1600     Check out: 1100
Reservations must be received on or by 14 July 2023.
.
Room Rates

| Room Rate | Wed | Thur | Fri | Sat |
| --- | --- | --- | --- | --- |
| King | $149 | $149 | $149 | $149 |
| Double | $149 | $149 | $149 | $149 |
Registration